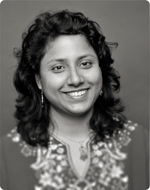 What I enjoy most about teaching at Brookview: Being at Brookview gives me an opportunity to share and experience the values of different cultures. I am blessed to have a wonderful class and colleagues to work with. I enjoy every moment of my job and the satisfaction that I get from teaching children is immense. It feels wonderful to be a part of Brookview community.
What I value most about a Montessori education: The authentic relationships a teacher shares with their students are very dear to me. I believe that an environment of mutual respect and trust enables both to learn and grow together.
Interests: I enjoy cooking, gardening and other outdoor activities. When I was in high school and University, I enjoyed playing competitive field hockey. I love living in Saint Joseph with my husband. Both of our kids attended Brookview Montessori School when they were younger.

Years at Brookview: 11, During this time, this gives me 11 years of Montessori Education for ages 6-9 and the same amount of experience as Director of the Shakespeare Drama Program.
Education/Montessori Credentials:

Bachelors of Commerce and Economics, University of Mumbai

2 Years of Law Studies, University of Mumbai
Training of Software Technology and System Management, National Institute of Information Technology Mumbai
American Montessori Society, Lower Elementary Teacher Certification, Institute for Montessori Innovation at Westminster College, Salt Lake City, UT
Contact Me: le@brookviewschool.org