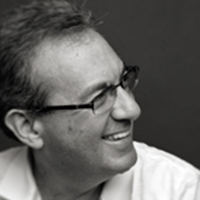 What I enjoy most about Brookview: I have been teaching music at Brookview since August, 1997. I am an accomplished pianist, and have been writing music for theaters in Chicago and throughout the country for the past 25 years.
I have been teaching music at Brookview for over 20 years, and am entering my 4th year as Executive Director. I love working with our teachers and staff, and with all of our families, parents and students alike. There can be no better occupation than furthering the magic of Montessori education to create a world of global citizens who truly care about the well-being of humanity.
I also am a teacher trainer for the Institute for Montessori Innovation at Westminster College in Salt Lake City, and with the Teacher Education Program of Shanghai. With Education Director and Lower Elementary Lead Teacher, Laurie Moreno, I have given numerous presentations at national conferences on Arts Infusion -- the blending of the arts into the Montessori classroom curriculum.
As a music specialist, I am very fortunate to be able to work with students in each classroom twice eah week, and to get to know all the students at Brookview. Each child is different from the next, which is what makes each day interesting. In addition, as a Montessori educator, it is my responsibility to kindle the individual passions and illuminate the hidden talents in our colorful student body, and to help each child gain an appreciation of music from all over the world. This is a joy and a privilege.
We have a unique situation at Brookview with the Executive Director serving as music teacher as well. I wouldn't trade it for the world.
Education:
NAMTA Orientation to Adolescent Studies Certificate
Ph.D. Music Composition, The University of Chicago
M.M. Music Composition, Northwestern University
B.M. Popular Music, Northwestern University
Contact Me: larry@brookviewschool.org